M4A1 Scope
Oyun
Genel Bakış
Aliases

M4A1 Gashapon

Tip
Dizayn

Colt

Ekleniş Tarihi

18 Aralık 2013

Yeri

Amerika Birleşik Devletleri

Alınışı
Tavsiye edilen Mod
Fiyat
Maç içindeki fiyatı

$3100

İstatistikler
Hasar Oranı

29

Uzun menzilde isabet

12%

Geri Tepme

8%

Ateş Oranı

91%

Hız Azalma Oranı

9%

Geri İtme Gücü

Düşük

Sersemletme Gücü

Yüksek

Şarjör Boyutu

30 / 90

Ateş Modu

Otomatik

Cephane
Şarjör Değiştirme Süresi

3.0 saniye

İkincil Ateş Modu

1x normal yaklaştırma

Kullanımı
Tarafı
Diğer
Sistem adı

m4a1g
M4A1 Scope Counter-Strike Online bir prim saldırı tüfeğidir.
Genel bakış
Edit
Bu 5.56mm ile her tur için 30 mermi alır saldırı tüfeğidir. Doğruluğu ve yıkıcı güç dengeli edilmiş olarak geri tepme kontrol oldukça basittir. Kapsam kullanıldığında bir başka mesafeden düşmanları hedefleyebilme.
Avantajları
Edit
Yüksek hasar
çok hassas
düşük geri tepme
Yangın oranı yüksek
Hafif
Yakınlaştırabilir
Dezavantajları
Edit
Pahalı
Elde etmek zordur
Düşük dergi boyutu
Uzun yeniden süre
Yayın tarihi
Edit

M4A1 Scope içine sokulmuştur Code Box ile birlikte Lightning AR-1 18 Aralık 2013 tarihinde.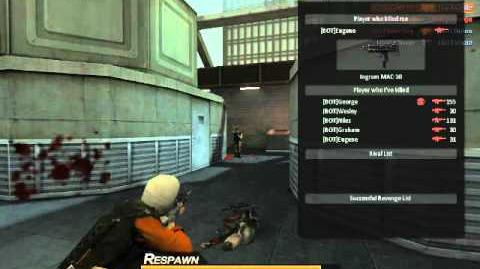 Ad blocker interference detected!
Wikia is a free-to-use site that makes money from advertising. We have a modified experience for viewers using ad blockers

Wikia is not accessible if you've made further modifications. Remove the custom ad blocker rule(s) and the page will load as expected.